2022:Programming
From 1511Wookiee
Jump to navigation
Jump to search
General programming stuff relevant to all subsystems should be documented here.
Subteam Assignments
Programming lead(s) for each group are in bold.
Drive Base: Peter
GamEpiece: Trevor, Ethan, Calla, Daniel

Shooter: Trevor, Peter
Intake/Storage: Calla

Hang: Ishan
Controls: Nadia, Sam
Blinky Blinky: Nadia, Peter
Outstanding Tasks - Robot Code
Split up by subsystem - responsible veteran student or mentor in (), student(s) doing actual code, if different, in []. These are not in any particular order!
Drive

Implement and test auto drive code (Peter)

GamEpiece

Implement basic operations of shooter (Trevor)
Implement basic operations of intake/storage (Calla)
Implement game piece to drive operations of both subsystems (Trevor)
Add diagnostic outputs for all sensors and anything else of importance

Hang

Finish implementation of hang (Ishan)

Controls

Support controls overall design as needed
Document how many and what controllers will be used on this page or IO Map page
Plan out and document how each axis/button on each controller will be used
Review with Jeff (Nadia, Sam)

Autonomous (Ishan, Peter, Trevor)

Document auto modes on this page (see Autonomous section) - be sure to include....

A name for the mode
Specific starting location(s) on field
Description of what will it, including descriptions of waypoints on field it will move through and where the robot will be on the field at the end
A priority for that mode -- which ones will we work on before others?

Share with Strategy to get their input

Main Robot

Reset all subsystems
DisabledPeriodic - no processing in disabled?
TeleopPeriodic - add process calls for remaining subsystems that need it
AutonomousPeriodic - add process calls for remaining subsystems that need it

Scouting App (Ishan)

Need to work with strategy to determine necessary data and UI
Feedback
Most feedback is via the Dashboard connection -- the specific items are documented on Dashboard section of Robot IO Map
Autonomous
Ball Numberings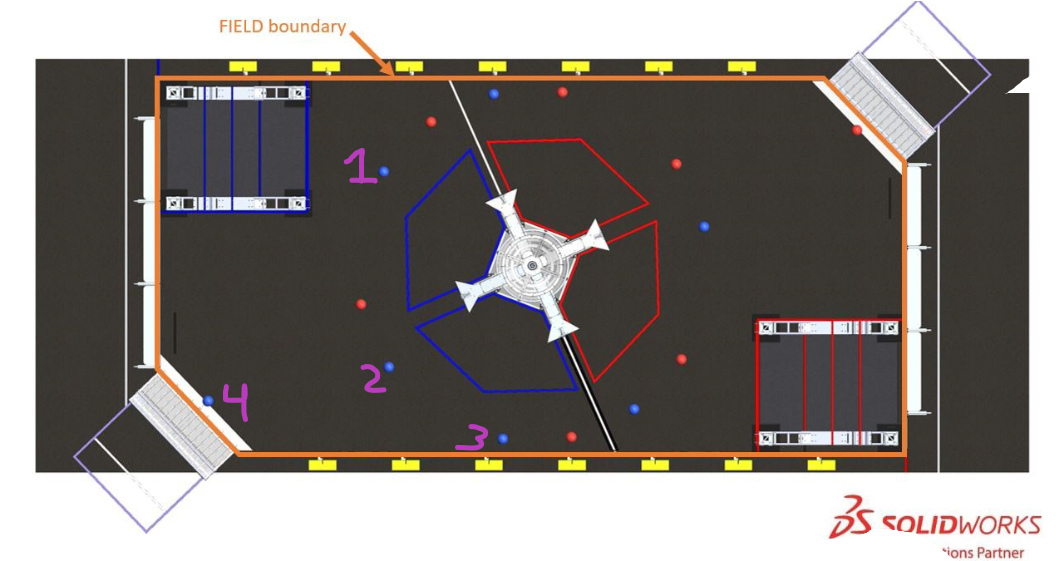 List of Routines
We will have 7 autonomous routines:
SVN Info
Our source code is stored in a subversion (SVN) server. The repository URL for this year is https://svn.penfieldrobotics.com/FRC2022/trunk/thunderbot2022/
A brief "how to" on using SVN is on the non-year-specific Programming subteam page.
Programming Archives